Website designing is a process of planning, organizing, and conceptualizing the content to be presented on the internet for the users. Website designing is not just limited to designing a website of a company but also includes designing mobile apps, web apps, and even user interface. Leadzap is Best (Web)Website Designing Services Company in Delhi NCR.
While designing a website, both the looks and the functionality of the site needs to be looked upon seriously to maximize the responsiveness of the site. Therefore, it's very important in today's era to hire the best (Web) website designing company Services in Delhi NCR like (leadzap) for your company because of the immense competition prevailing in the market.
Leadzap | Best Website Designing Companies in Delhi
Leadzap is the best (Web)website designing services company in Delhi NCR with a team of proficient award-winning web developers and experienced digital marketing experts that create innovative and responsive websites that capture your brand and promote the same to increase the customer's reach. Invest in your site's success with Leadzap by hiring our best website designers, to build a strong online presence that will pave a path towards your success by maximizing your revenue.
Website Designing Services Provided By Leadzap
Leadzap is the best Web Designing Services Company in Delhi NCR, which provides a wide variety of website design services for SMEs as well as large business enterprises. Here are a few objectives that Leadzap thrives to achieve when designing a website tailored for your business:
Custom Web Design
Leadzap creates tailor-made websites with advanced technologies and themes as per the requirements of the business which is visually appealing and user friendly. Website styles we offer include:
• Simple and Attractive
• Moderate Styling
• High-End
• Premium Class
We provide our clients with a dedicated project manager who invests time to learn about the business, goals, and vision. This way, the Leadzap team creates a custom, one-of-a-kind website for your business.
Responsive Web Design
We create a mobile-friendly responsive website, which looks and performs great on every screen size. More than 50% of internet traffic is coming to websites through mobile devices or iPads. It becomes imperative to support mobile users to prevent any hindrance in traffic and ranking. Leadzap appreciates and follows Google's mobile-first algorithm.
SEO-Optimization
SEO refers to a set of techniques that enhances your website ranking for a particular search result. Leadzap creates websites using the best-advanced SEO tools and practices to compete with big competitors, driving maximum traffic resulting in better conversion and business growth.
Calls to Action
Leadzap incorporates a Call to Action feature with which the user can easily find what they are looking for. This makes the website user friendly and there is an easy conversion of website visitors into customers. This in turn generates revenue for the business.
Basic, Advanced, and Professional Functionalities
We provide you with a variety of functionality deliverables classified in three tiers:
• Basic
• Advanced
• Professional
Our strategist helps you suggest the best tier for maximum return on investment (ROI) and user experience (UX). For example, eCommerce, password-protected content, event registrations, content management system (CMS), forum, etc. Just name a functionality, and Leadzap assures to build it with full perfection.
Content Writing Services
We also provide content writing services, which tell the story of your brand and make it stronger through your website blogs, thereby attracting traffic.
We also encourage and include additional features as a part of designing a website. For instance, you can customize your website by requesting our developers to integrate a database into your design, enable the eCommerce functioning, etc.
Why Choose Leadzap For Website Design Services?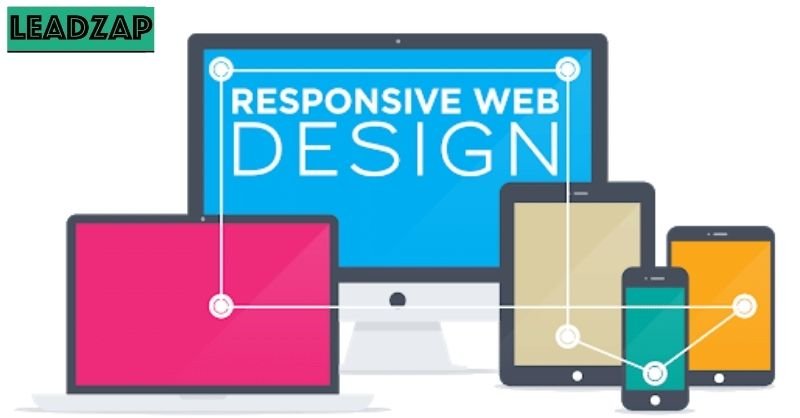 Website design has the potential to either MAKE or BREAK a brand. A website with a brilliant User Interface helps to engage more visitors, converting them to customers, and thereby increasing sales.
Leadzap plans the website design in a very strategic manner and therefore is one of the best (Web) website designing services company in Delhi NCR. We diligently analyze the insights, target audience, ultimate goals, and objects of the business.
Leadzap is the best Website Designing and Development Services Company in Delhi NCR, which has a team of highly skilled and experienced professionals. Our designers have been delivering successful results to our clients for over a decade now. We provide extremely professional services with no compromise on quality.
Creative & Innovation Approach
Innovation is the key to success. The more website is creative, the more attractive it seems. Here at Leadzap, we follow a creative approach and bring our variations and innovations to make sure that the uniqueness of your business is maintained.
Understanding of Clients Needs
A website is a representation of the brand and should reflect the needs of the business. Understanding the business goals of the client and customizing the web according to the needs is very important.
There is a trillion of business webs out there. Making a website that is unique just like your business goals is an art in which Leadzap masters.
Stunning and Engaging Looks
The first impression is the last impression and Leadzap religiously follows it. We believe that the looks of the website are the first and most important step towards user retention.
We have experience in design and delivery stellar looks for websites for our clients, the ones which the visitors can't skip noticing. You may have any genre of business, Leadzap has a unique look for your brand.
Advanced Design Trends
At Leadzap, we understand the importance of running along with the trends. Our highly skilled team is up-to-date with the advancing design trends.
We provide our clients with a variety of choices of top leading trendy designs. Making an advanced user-friendly website design with the latest designs is our expertise.
Principles Used by Leadzap While Designing Websites?
Leadzap provides an all-round experience of web design services which includes Layout Development, Content Creation, Conversion Optimization, and User Experience (UX) Testing.
Wondering how we create award-winning websites? Leadzap follows certain principles while designing websites. Let's dig into them.
The appearance of the website creates the first impression when attracting new customers. A website that has modern design elements with proper multimedia and image optimizations have been seen to convert more customers than any older generation websites. An important factor to be noted here is the responsiveness of the website.
A person can visit your website from a mobile device, iPads, tablets, or laptops. We make sure that every user experience is great and visually appealing.
Navigation is that feature on a website that caters the people with what is desired by them. There are a variety of navigation styles available, each catering certain needs. Our team will suggest the best style which suits best for your brand and provides an outstanding experience to the users. Better the experience, the greater the retained attention.
Once a visitor visits the website, it becomes imperative to hold on to his attention. If a website fails to retain the attention of the potential customer, he might lose onto a sale. Our highly skilled designers create a website for you that keep the visitors focused on your brand and inquisitive about the products and services offered by the brand.
Leadzap Uses The Following Practices to Enhance User Retention Rate:
• Downloadable Content: A downloadable content in form of a PDF or image is also a great option to retain visitor attention and get new leads. You can ask to subscribe or fill in the contact details of the person before downloading the file. This way you can get subscribers for future marketing of the brand.
• Infographics: Another way for explaining a long context in short through visualization is the Infographics. A high standard and supreme quality infographics are proven to attract more traffic and links.
Video Marketing: Videos are visual-based mediums which has been proven excellent to retain attention. People love to watch visuals moreover reading texts. This is simply because it easily explains the content in an interesting manner.
Direction
Direction means guiding someone the way to proceed on a website. Scrolling down the page is a commonly used direction for its ease. This is also an important factor in making a website responsive.
For instance, the mega navigation in the header with lots of drop-down menus directs the users to click here for more information. An excellent form of direction is the hamburger menu which looks something like this: ☰
With just a tap on this button, you can access different menu options and choose where to head forward. Hence it makes the website organized and easy to navigate.
Calls to Action (CTAs)
It is very important to engage with your visitors coming to your website. CTA acts as instructions guiding the visitors on what to do next so that they take action on your website and become your customers. Studies have proven that CTA dramatically increases the conversions in an online business platform.
Leadzap has an excellent team of copywriters that develop engaging CTAs to assist your online business growth by increasing subscribers and customers. Leadzap provides CTAs in different forms:
Click-on buttons
Text links
Image links
Form filling
Others
We religiously follow these principles. Leadzap knows the science behind creating performance-driven websites. We work in the best of your interest to create a revenue-generating website that leads to your success.
Benefits of Hiring a Professional Website Designing Company?
Good website design has a positive impact on the profits and growth of the business. When your website ranks on Google, you get more organic visitors which increases the chance of them converting into customers for the business. Hiring a Professional Best Website Designing Services Company Like Leadzap Have Various Benefits.
Increased Conversion Rates
Conversion means different for different businesses. For an eCommerce website, it means the visitor ending up purchasing from the website. Similarly, for news or an education website conversion could mean signing up for the newsletter. Whatever the ultimate business goal might be, web designing has solutions.
An outdated or amateur website with a bad user experience drives the traffic off. This negatively impacts the business as it loses its potential customers or subscribers which could have given them profit. As more users are impressed by the promises of the brand, it will multiply itself by referrals. This will increase conversion rates. After all, the first impression is the last.
Optimized User Experience (UX)
Good user experience is directly proportional to a better return on investments (ROI). A professional touch in the web design will help to get the best possible user experience crafted by experts of this line, both on mobile and on desktops.
Competitive Edge
An advanced website which has more user retention provides a competitive edge over your competitors. Studies show that close to 90% of the users who undergo bad website experience, tends to shift to competitors. This gives the business a great opportunity to monetize that 90% of users and increase business sales. Professional user experience can help you get the edge better.
Better Search Ranking
In the growing era of internet users, more than 80% of people search for any product or service when they need one. The website ranking on the first page of Google has the highest possibility of getting leads through clicks. Hence, if your web page does not rank on the first page of google, you lose the edge over your competitors.
That's where professional SEO services play a role by increasing your ranking leading to increased conversions. This in turn improves the sales and subscriptions.
Leadzap has a team of highly skilled design strategist who uses supreme quality optimization strategies which help your page to rank on the first page of search engines and is, therefore, one of the best website development company in Delhi. This creates a platform for the brand to reach a higher target audience and convert leads to customers.
Strategic Digital Marketing
With the increased popularity of marketing digitally, your website becomes the foundation for the same. It becomes crucial to keep your website highly optimized and up-to-date to support your marketing strategies.
Our team helps your brand to market itself in digital platforms strategically. For instance, the marketing experts at Leadzap can develop a highly optimized landing page for a pay-per-click advertising campaign, which will generate real conversions and maximize ROI.
How To Choose The Best Web Design Company In Delhi?
There are dozens of (Web)website designing Services company in Delhi. Confused on how to choose the best website design company which addresses all your needs? Here are a few ways which will guide you to find the best professional help of a top website design company in India for your business:
Set Your Budget
The first step of moving towards web designing is to have an idea about the budget you are ready to set aside for it. Both the quality of web design and where you want to get it done from depends upon the amount you can spend on it.
The industry in general does not have a fixed pricing attached. Everything depends on the needs of the website. Once you have set your budgeted investment, you can have a better idea about the expected goals return on investment (ROI).
---
Block "leadzap-consultation" not found
---
Type of Web Designer You Want to Hire
The web designing industry has flourished over the past few years generating a lot of options to choose from Best (Web)Website Designing Services Company in Delhi NCR. According to the size of your business, you can choose a design that fits your demand from amongst the numerous quantity out there.
Here are the Most Common Types of Website Designer Categories:
The Freelancer
Freelancers are the cheapest option while considering a web designer with a tight budget. Getting work done from a freelance web designer is a little more informal process.
While there various good freelancers who work professionally to deliver services on time. There can also be a few freelancers who are unprofessional and getting work done from them could be quite a pain.
The Design Agency
Best (Web) Website Designing Services Company in Delhi NCR are a little more expensive than freelancers. They are a team of specialists who provide services, especially at the small and medium levels. Since these agencies are run by experts in the field, they are very professional and knows their job well.
The Full-Service Agency
Full-service agencies are more expensive than freelancers and design agencies. They are a package of bundled services with SEO, PPC advertisement, Social media marketing, etc. along with web design and development services.
If you require a complete digital marketing service instead of just web designing services, you should opt for a full-service agency. They are a professional team of specialists in respective areas.
Client Testimonials
Client testimonials refer to the work done by the web designer for his previous clients and their reviews. When you do not know much about the designer, trusting him becomes tricky.
Looking through the client testimonials and reviews helps a lot here. When you see positive responses for so many past works, you start building a sense of trust and satisfaction.
Experience and Portfolio
While choosing a web designer, looking into their portfolios gives an insight into the experience they hold in the industry. Many designers also upload sample works and design styles on their portfolios.
Taking a look at them gives an idea about the work of the designer and his potential. It gives a sense of satisfaction that my work is going in expert hands.
Additional Services
While developing a website, you may need various other services apart from designing. These services may include search engine optimization (SEO) to improve site rankings, copywriting for website content creation, social media marketing, etc. It is always easier to hire a Best (Web)Website Designing Services Company in Delhi NCR that performs all these additional services too. A full-service digital marketing agency is always a great option as it provides all services under a single roof.
Understand Their Strategy
It is understood that most people do not understand the strategies and workings behind website development designing and digital marketing. This is the reason they hire web designing and digital marketing companies. A good freelancer or agency takes it to be his duty to satisfy all the questions.
8 Best Web Designing Softwares Used By Web Designer In 2020 (Both Free and Paid)
Designing a website has become easier with passing years with the developments of user-friendly tools and software. There have been big evolutions in the web designing industry. You are no longer required to write long paragraphs of codes to create an attractive website.
Top Web Designing Software in 2020 Are Listed as Below:
WordPress (Free and Paid)
WordPress is the most popular and one of the best web designing tools available in the web designing and development industry. It has maintained its position aa a top choice for quite a while now. A study shows that WordPress powers 27% of the total website available worldwide. It claims to have about 76% of the world's market share.
WordPress is extremely easy to use and the plugins offered by it are an essential essence of web designing. WordPress has a plugin for almost everything. You can build, customize, optimize, and use the WordPress website with great ease.
Bootstrap is the world's most popular framework for creating responsive websites. It was created by the engineering team at Twitter. Bootstrap is a roof under which you can access all coding components like HTML, JavaScript, and CSS.
It makes the process of coding very systematic and simplified by providing various additional features like a grid system, responsive breakpoints, etc.
Bootstrap provides a large library of components that includes the navigations, headers, alerts, forms, buttons, and lots more. Each feature comes with a comprehensive document of suggestions and examples of use.
Wix is a cheaper alternative to WordPress. It has a drag-and-drop editor which makes it very easy to set up and use.
The Wix company is responsible to handle all the details around the hosting site from the security to backups.
Wix offers hundreds of templates to the users, to choose from. They have both paid as well as free plans. However, the free plan comes with sponsored ads. The paid plans start from $13 every month. These include ad removal, increased bandwidth, and additional space.
Squarespace is the third alternative tool for website developers after WordPress and Wix. Like Wix, Squarespace also uses the drag-and-drop interface which enhances ease of use.
Squarespace offers SSL encryption and also comes up with a wide variety of themes and colors.
The personal plan of Squarespace starts at $12 for each month with a limit of 20 pages and two contributors. The business plan lifts all limitations of a personal plan and costs $18 per month.
The sketch is a very popular interface design tool that has won a designing award from Apple.
The sketch is available for operating systems of MAC. It sells as a "pay-once" license for $99/year. Sketch offers a free, full-featured, 30-day trial.
InVision Studio (Free and Paid)
Studio combines design, prototyping, and collaboration into one harmonious workflow. It starts with a live design environment, which gives you the power to create intelligent layouts and interactions as part of your normal workflow.
Adobe Dreamweaver (Free Trial)
Dreamweaver application by the Adobe offers coding both manual as well as through visual interface. It mainly works with HTML and visual editing. You need not have extensive knowledge of programming to design a responsive website using this tool.
Google web designer is primarily used for building ads using GUI and is used in CSS, HTML, and JavaScript. You can switch between the default view i.e., the 'design view', or the 'çode view' as per requirement and expertise. This tool offers quite advanced features too.
Essential Elements of Web Design
To make a website desirable, both the looks and its functionalities needs to be focused upon. Integrating both the visual as well as functional elements together creates the most responsive and appealing website which maximizes performance.
These elements are responsible for making a website look visually appealing.
Written Copy
The content of your web and its design goes hand in hand. It is always suggested that the content writers and designers work together in collaboration to drive the best output.
Fonts
Fonts used while designing a website should be easy to read and such that it complements the total look of the template. There are different tools available in the market to help you match your fonts. For example, Canva's Font Combinator, PageCloud, etc.
Colors
The color of the website gives a sense of psychology behind the nature of the business. Choosing a color scheme very carefully is crucial.
Layout
There are no specific rules regarding the layout of a website. However, there are certain general principles that one should follow while designing.
Spacing
Texts and images crammed together resulting in a clustered article is a bad option. Instead have generous spacing between paragraphs and images so which makes the content easy to read.
Images & Icons
Using the same incorrect manner makes the user experience wonderful. Various websites provide images without copyright issues.
Free Icons and Images
Premium/ Paid icons and Images
• Shutterstock
Videos
Viewers love watching videos. Videos are the increasing trend all over the internet. They have proven to retain more viewer attention span. Using the same incorrect manner makes the user experience wonderful.
show less
These elements are responsible for making a website perform functionally better.
Navigation
Navigation is a major functional element. It guides the visitors and takes them through specific sections of the website as needed.
Speed
Even with great content and services under the perfect web design, if your website has low speed, everything goes into the trash. Nobody likes low-speed websites which takes time to load. Hence, the optimization of high speed is key.
User Interface
Visitors of the site can interact with the site through scrolling, clicking the buttons, or even writing information or comments were asked for. The simplicity behind it increases user interactions.
Site Structure
Site structure plays a crucial role in web design for both the SEO as well as the user experience. Many fee sitemap builder apps are available on the internet.
Cross-Browser Compatibility
Usage of a cross-browser testing tool while designing a website is highly recommended. This will ensure that your site looks great on all the devices as well as all browsers like Google Chrome, Internet Explorer, Safari, etc.
Frequently Asked Questions Web Designing Company in Delhi
Q1. How much does a website cost?
Ans: The cost of the website depends upon the individual needs of a project. Each business is unique and has different needs and goals. The website cost directly relates to the requirements of the business to be incorporated. Many websites run at Rs. 20,000 to 50,000 range. This can go up or down depending on needs.
Q2. How much time is required to get a website ready?
Ans: On average, it takes about 6 to 8 weeks for a website to get ready. However, it depends on the number of feedbacks received the number of changes to be made as per the satisfaction of the clients.
Q3. Do I have to be local to work with you?
Ans: No. We provide services to clients all over the world. At Leadzap, we make sure that you face no difficulty in dealing with us even if situated remotely.
Q4. Do you have low-cost options for small businesses?
Ans: Yes. Leadzap customizes the best deal packages for you. We cater to all SMEs and large business enterprise and have unique packages which fit the needs for all.
Q.5. Will you help me if I want to site down the road?
Ans: Leadzap is just an email away! We cater to all needs of our clients whether small or big. Don't worry! We will not leave you to struggle after the site is been launch.
Q6. What is the future of website designing for business enterprise?
Ans: There is extensive growth of internet users all over the globe. People have a tendency to check everything online. An online presence is becoming an essential element for a brand. An online presence not only markets your brand but also provide a great competitive edge.